Poland
Rusza kolejny sezon Ekstraklasa Games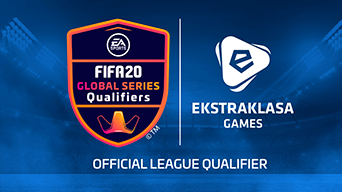 Ekstraklasa Games należy do ekskluzywnego grona turniejów na licencji FIFA 20 Official League Qualifier. Oznacza to, że najlepsi gracze rywalizują w turnieju także o punkty do rankingu FIFA 20 Global Series i możliwość walki o awans na Mistrzostwa Świata FIFA eWorld Cup. W tym sezonie wydawca gry - EA Sports - przyznał rozgrywkom Ekstraklasa Games większą liczbę punktów rankingowych niż rok temu. Świadczy to o rosnącej randze tego wydarzenia.
- Od ubiegłego roku należymy do ekskluzywnego grona lig, które uruchomiły profesjonalne rozgrywki esportowe. Patrząc na wyniki poprzedniej edycji Ekstraklasa Games widzimy duży entuzjazm uczestników oraz możliwość rozwoju tego projektu. W pierwszym sezonie zarejestrowało się ponad 17 tys. graczy. Transmisje w Polsat Games w trakcie pięciu dni rozgrywek śledziło 430 tys. widzów, a wszystkie transmisje online miały łącznie 1,3 mln wyświetleń. W całym sezonie strona Ekstraklasa Games zanotowała 860 tys. wyświetleń. Jesteśmy przekonani, że druga edycja dorówna pierwszej poziomem rywalizacji i dostarczy jeszcze więcej emocji ze względu na przejście z systemu rozgrywek ligowego na turniejowy – mówi
Marcin Mikucki
, Dyrektor Departamentu Komunikacji, Marketingu i Sprzedaży Ekstraklasy S.A.
Turniej będzie się składał z rundy zimowej, rundy wiosennej oraz rundy finałowej. W tej ostatniej wezmą udział najlepsi gracze z całego sezonu. Zarówno runda Zimowa, jak i Wiosenna będą zaczynały się od kwalifikacji online (oddzielne dla każdego klubu Ekstraklasy na obu konsolach) i zostaną zakończone finałami, w których udział wezmą zwycięzcy klubowych turniejów kwalifikacyjnych. Podczas finałów każdej z rund kluby Ekstraklasy będą reprezentowane przez jednego gracza na konsoli
Sony Play Station 4
oraz jednego na konsoli
Xbox One
.
Rywalizacja w Ekstraklasa Games będzie odbywać się niezależnie od siebie na obu konsolach, ale wzorem międzynarodowych rozgrywek w innych ligach, w decydującym meczu sezonu, w Wielkim Finale, naprzeciw siebie staną najlepszy gracz w Polsce na PS4 oraz najlepszy gracz na Xbox One.
W zależności od miejsca zajętego przez każdy z klubów Ekstraklasy podczas finałów Rundy Zimowej i Rundy Wiosennej, kluby otrzymają punkty do klasyfikacji generalnej. Najlepsze 8 klubów na obu konsolach w klasyfikacji generalnej po rozegraniu Finałów Rundy Zimowej i Wiosennej będą premiowane awansem do Rundy Finałowej, którą będzie transmitował kanał Polsat Games.
- W drugim sezonie Ekstraklasa Games stawiamy sobie za cel zaangażowanie jak największej części polskiej społeczności fanów FIFA 20. Nowy format rozgrywek i doświadczenie z poprzedniej edycji pozwolą nam - wspólnie z klubami Ekstraklasy - opowiedzieć jeszcze lepsze historie i maksymalnie dopracować telewizyjne show. Nie możemy się doczekać, aż zaprezentujemy pierwsze z przygotowanych niespodzianek. Druga edycja Ekstraklasa Games to drugie tyle (e)sportowych emocji, które z niezmienną dumą dostarczamy polskim graczom - mówi
Bartosz Pawlik
, dyrektor zarządzający Polsat Games.
Oficjalnymi partnerami rozgrywek są popularne marki -
KFC
i
Media Expert
, które w poprzedniej edycji wykorzystały potencjał turnieju przeprowadzając dedykowane kampanie reklamowe w mediach. W projekt zaangażowane jest także grono partnerów, doskonale znających świat esportu i mających ogromne doświadczenie w realizacji najważniejszych projektów w polskim gamingu. Strategicznym partnerem medialnym jest telewizja
Polsat Games
, w której studiu odbywają się turnieje fazy ligowej oraz finały. Kluczowa jest także współpraca z wydawcą gry
FIFA 20 – Electronic Arts Polska
. Agencją esportową odpowiedzialną za koordynację turnieju jest
ESL Polska
. Nad całością projektu czuwa agencja marketingu sportowego
Lagardere Sports
.


Information:
info write comment not allowed